ANNUAL EVENT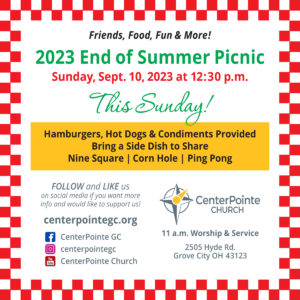 EVERY MONTH
First Sunday of the Month – Celebration Sunday – Plan to share birthdays, anniversaries, or other praise reports for the month.
Second Sunday of the Month – Family Day & Communion – Join us as we share in taking the bread and wine to commemorate the sacrifice of our Savior.
If you are unable to attend services in person, you can still join us for services ONLINE. You can view the recorded sermon on the CenterPointe YouTube channel. Please support CenterPointe Church by Subscribing and Liking!
Sermons are also posted on this website for your viewing convenience.